Stationary Temperature Check-In System
The threat to your enterprise will grow exponentially, as companies start returning to business and let their employees have building access.
Many companies are introducing new products and technologies that will measure employees' temperature as they walk by a camera or probe, but there are few monitoring technologies that will provide analytics, reporting tools, and risk management. Hitachi Vantara's Temperature Station is that technology solution that will secure your business moving forward.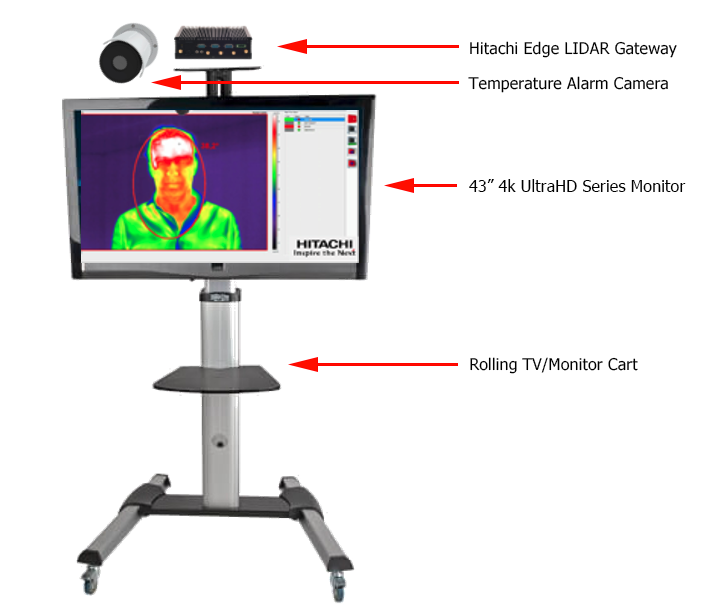 Please note this is an Enterprise Class Thermal Sensor. It is not designed for low-use or low-traffic areas. This system is designed for areas that have a large amount of traffic like an office building or headquarters.
The Hitachi Temperature Sensor system is not just a station to analyze the temperature of incoming employees or visitors. It can be part of a larger smart office system that keeps the spread of any virus from crippling your enterprise.
The Thermal Sensing Solution provided by Hitachi Vantara provides the following benefits:
Utilizes LIDAR technology that can read and record temperature in 1.6 seconds, which makes for speedy entrance into the workplace.
Recording and reporting tools for risk and regulatory management.
Manage alert actions in the HVS Archive
Containment – detect and reduce contact with symptomatic people.
Prevention – detection of handwashing, wearing of safety equipment, social distancing, elevated temperatures, and many more.
Innovating policy to prepare and prevent – form data-driven policies and measures compliance
Develop response plans for any future outbreaks or situations.
Downloadable Info Sheets