SUSE CaaS Platform
KUBERNETES, READY FOR THE ENTERPRISE
SUSE CaaS Platform is an enterprise-class container management solution that enables IT and DevOps professionals to more easily deploy, manage, and scale container-based applications and services. It includes Kubernetes to automate the lifecycle management of modern applications and surrounding technologies that enrich Kubernetes and make the platform itself easy to operate. As a result, enterprises that use SUSE CaaS Platform can reduce application delivery cycle times and improve business agility.
SUSE is focused on delivering an exceptional operator experience with SUSE CaaS Platform. With deep competencies in infrastructure, systems, process integration, platform security, lifecycle management and enterprise-grade support, SUSE aims to ensure IT operations teams can deliver the power of Kubernetes to their users quickly, securely and efficiently. With SUSE CaaS Platform you can:
Achieve faster time to value with an enterprise-ready container management platform, built from industry-leading technologies, and delivered as a complete package, with everything you need to quickly offer container services.
Simplify management and control of your container platform with efficient installation, easy scaling, and update automation.
Maximize return on your investment, with a flexible container services solution for today and tomorrow.
Key Features
A Cloud Native Computing Foundation (CNCF) certified Kubernetes distribution, SUSE CaaS Platform automates the orchestration and management of your containerized applications and services with powerful Kubernetes capabilities, including:
Workload scheduling places containers according to their needs while improving resource utilization
Service discovery and load balancing provide an IP address for your service, and distribute load behind the scenes
Application scaling up and down, accommodates changing load
Non-disruptive Rollout/Rollback of new applications and updates enables frequent change without downtime
Health monitoring and management supports application self-healing and ensures application availability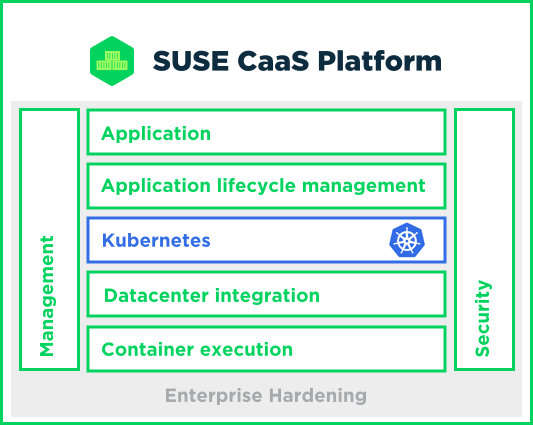 In addition, SUSE CaaS Platform simplifies the platform operator's experience, with everything you need to get up and running quickly and to manage the environment effectively in production. It provides:
Application ecosystem support with SUSE Linux container base images, and access to tools and services offered by SUSE Ready for CaaS Platform partners and the Kubernetes community
Enhanced datacenter integration features that enable you to plug Kubernetes into new or existing infrastructure, systems, and processes
A complete container execution environment, including a purpose-built container host operating system, container runtime, and container image registries
End-to-End security, implemented holistically across the full stack
Advanced platform management that simplifies platform installation, configuration, re-configuration, monitoring, maintenance, updates, and recovery
Enterprise hardening including comprehensive interoperability testing, support for thousands of platforms, and world-class platform maintenance and technical support